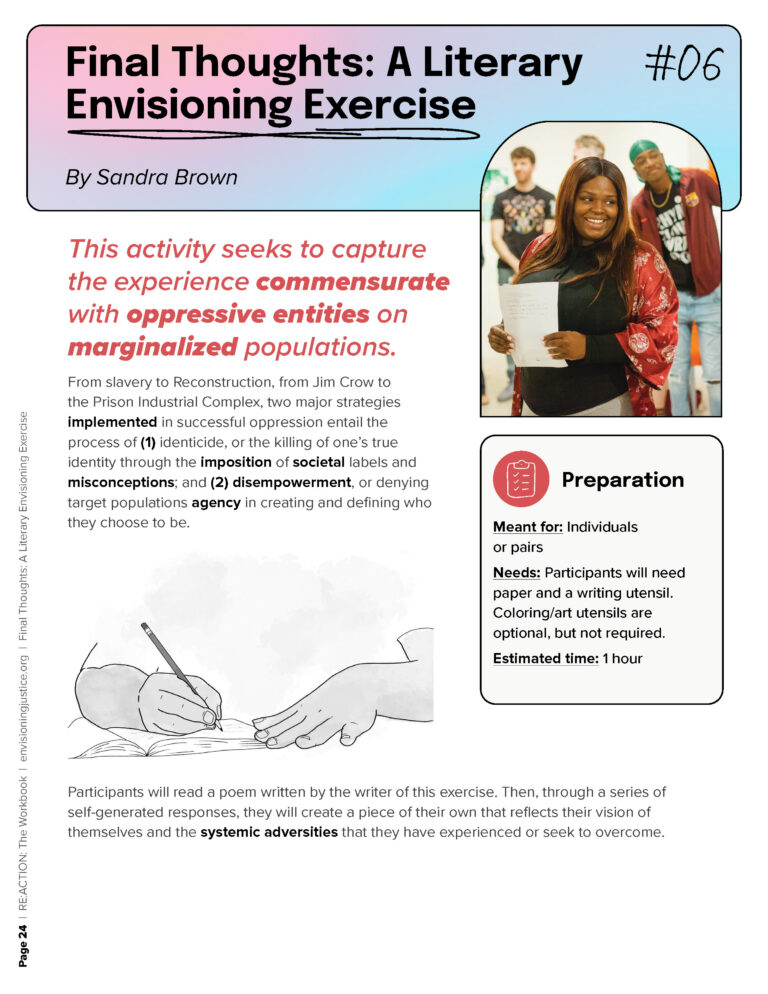 The RE:ACTION Workbook includes 10 unique activities with step-by-step instructions that invite individuals and pairs to start conversations, learn from one another, foster healing, and share how they envision justice. Created by and for people with lived experience of incarceration, the Workbook was built from the conviction that art, writing, and shared conversation have the power to create change.
If you are someone facilitating programming inside of jails and prisons who would like to request physical copies of the RE:ACTION Workbook, you can do so by filling out this form. 
Questions about Envisioning Justice or Illinois Humanities? Contact us at: ejustice@ilhumanities.org.
Get to know the partner organizations that will share the Workbook with incarcerated individuals through their ongoing work inside Illinois prisons and jails.
The Workbook was created by and for people with lived experience of incarceration to create more opportunities for creativity and healing for folks who are currently incarcerated. We owe a tremendous thank you to everyone who wrote and crafted these activities. Meet the contributors below.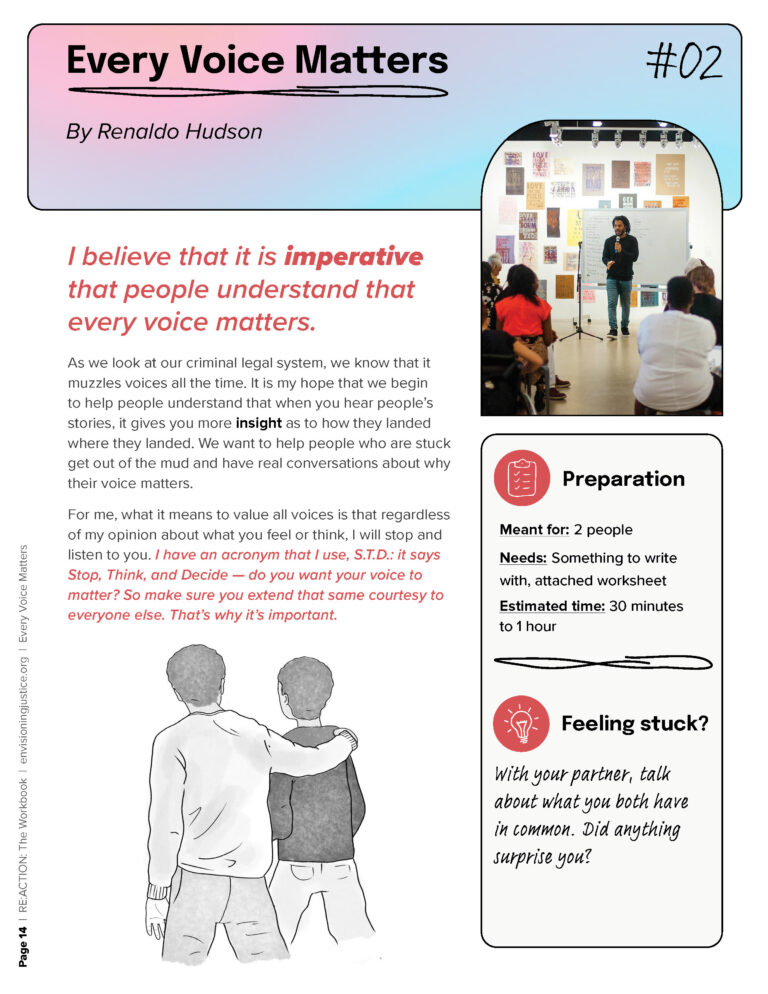 Sandra Brown: "Final Thoughts: A Literary Envisioning Exercise"
Sandra Brown holds an MA in humanities and is a doctoral student at California Coast University. Barriers to accessing higher education have spearheaded Brown's work as an educator, activist, and writer. She served 22 years in the Illinois Department of Corrections as an incarcerated survivor. Brown became the first incarcerated woman in Illinois to earn an academic master's degree and gain acceptance into an academic doctoral program. Brown earned the Davis-Putter Scholarship and Marilyn Buck Awards twice. Her poetry collection Odyssey in Progress depicts portions of her lived and learned experiences. Today, she works as a Senior Advisor with the Women's Justice Institute.
Denzel Burke: "Recentering Youth Voices"
Denzel K. Burke is a community builder, facilitator, organizer, and the director/founder of REAL Youth Initiative, a program which develops revolutionary consciousness and community among currently and formerly incarcerated youth in order to work towards the abolition of prisons and the conditions that (re)produce them. He is a consultant for the Justice 20/20 Network and an Ambassador Fellow of the Illinois Prison Project. Upon his release from the Illinois Department of Juvenile Justice in July of 2019, Denzel began studies at Chicago State University and co-facilitated 32 convenings inside Illinois state youth prisons for the Bluhm Legal Clinic at Northwestern University. Denzel collaborated with Northwestern's Children and Family Justice Center and a collective of abolitionists to launch the Final 5 Campaign, which he served on for a year before launching the REAL Youth Initiative. Today, the REAL Youth Initiative runs programming for youth in facilities across the state of Illinois. Denzel currently lives in Northbrook and plans to receive a PhD in Africology and African American Studies.
Heather Canuel: "Visual P.I.E.S."
Heather Canuel is an activist, mother, and stylist who is often referred to as "the last woman to give birth cuffed to a bed" while incarcerated in the state of Illinois. She is currently a member of the Envisioning team at Illinois Humanities and the founder of Art from the Heart, which creates a safe space for youth who have experienced the loss of a parent to incarceration. She has developed resources and advocated for policy change around the country in her roles at the Women's Justice Institute (WJI), the Illinois Coalition for Higher Education in Prison (IL-CHEP), and the National Council for Incarcerated and Formerly Incarcerated Women and Girls. Heather is dedicated to redefining the narrative around the carceral system and impacted individuals through the arts and healing.
Leanne Childs: "Think, Write, or Draw"
Leanne Childs is the mother of one son, who was seven months old when she went to prison. Since being incarcerated shortly after her 18th birthday and sentenced to natural life, Leanne has been in prison for 24 years. She has earned an associate's degree in liberal studies and over 100 college credits, and she is currently in the process of earning her master's degree in restorative arts with a focus in Christian ministry through North Park University. Her master's work focuses on repairing harm, building relationships, and developing communities through active conflict resolution practices. An advocate and activist by nature, Leanne has participated in countless programs such as sporting events and competitions, talent shows, creative writing classes, art contests, painting projects, and tutoring programs. Over the years Leanne has put a lot of effort into her intellectual, emotional, and spiritual maturity. She encourages all young people who are incarcerated to be self-aware and try to be better than they were yesterday.
Joseph Dole: "Help Change the Narrative"
Joseph Dole is a writer, artist, and activist. He is also a cofounder and Policy Director of the nonprofit organization Parole Illinois. Incarcerated since 1998, Joe spent nearly a decade of his life in complete isolation at the notorious Tamms Supermax Prison, before intense pressure led to its closure in 2013. Joe is currently serving life without parole at Stateville Correctional Center and continues to fight his wrongful conviction. He has written numerous articles, essays, research papers, reports, and policy papers. Joe has also successfully litigated dozens of civil lawsuits against public bodies under Illinois' Freedom of Information Act. He has won several writing awards. His artwork has appeared in numerous publications, and has been exhibited around the country. In 2018, Joe earned his bachelor's degree with a depth area in critical carceral-legal studies from Northeastern Illinois University's University Without Walls.
Omar Johnson: "Voting Rights For All"
Omar Ashanti Johnson is a social justice activist specializing in anti-racism and civic empowerment. He is a law clerk, peer educator, humanitarian, and unapologetically rehabilitated human becoming. He is also a spoken-word and hip-hop artist.
Renaldo Hudson: "Every Voice Matters"
Renaldo Hudson is an educator and a community organizer with the Illinois Prison Project, and has focused his work on ending perpetual punishment in Illinois. After being sentenced to death row, he worked for 37 years while incarcerated in the Illinois Department of Corrections to change the mindset of people who are incarcerated, as well as staff, regarding what rehabilitation should look like and how to focus attention on true rehabilitation. Renaldo is responsible for founding the groundbreaking Building Block Program, a transformational program run by people who are incarcerated within the Illinois Department of Corrections. Renaldo's work has been in Beecher and media outlets throughout the state, and he was the subject of the documentary Stateville Calling.
Pablo Mendoza: "Understanding Your Environment"
Pablo Mendoza is an artist, researcher, educator, and lifelong student. He dedicated his 22 years of imprisonment to educating himself and others. His educational journey began with helping individuals to attain their GED while awaiting trial in the Cook County Jail, and culminated with a five-year stay at Danville Correctional Center, where he was a student with the Education Justice Project (EJP) through the University of Illinois at Urbana-Champaign. As an EJP alum he became an English as a Second Language instructor through the Language Partners program. He continues giving back by volunteering his time with organizations like the Freedom to Learn Campaign, where he strives to make higher education more accessible. His efforts to change the narrative around scholars who are incarcerated have led him to co-author several publications and assist with doctoral research. His praxis of critical pedagogical principles wear on his trauma-damaged psyche, which he treats with mindfulness, meditation, and oil painting.
Erika Ray: "Freedom Within: Writing for Freedom"
Erika Ray is a Chicago native, mother, activist, and advocate for women's rights. She is currently a student in Northwestern University's bachelor's program and an advocate for restorative justice through Northwestern and the Moran Center's restorative justice team. She is a graduate of the Lakeland College associate's degree program, and she holds a paralegal certificate from Blackstone Career Institute. Erika is a certified doula and has worked with Chicago Volunteer Doulas. Also a poet, she is currently awaiting the publication of her children's book Yasir's Idea.
Brandon V. Wyatt is a "Universal Truth Seeker" who welcomes any involvement and indulges in progressive, productive, and peaceful affairs and developments. He continues to defy the assumptions that come with age, race, and gender. Despite being incarcerated for a significant amount of time, he has made notable achievements in the realms of academics, social understanding, and personal development, which stems from his ability to be firm in knowing that his identity is established in a substance of unconditionality and infinite possibility. He has been a contributor to Envisioning Justice and many other programs and ventures, and has walked away each and every time with a heightened sense of accomplishment and an appreciation for being able to lend a voice to such weighty and urgent issues as mass incarceration and social inequities.
Envisioning Justice RE:ACTION is funded by the Mellon Foundation and the Art for Justice Fund, a sponsored project of Rockefeller Philanthropy Advisors. Additional support comes from the John D. and Catherine T. MacArthur Foundation's Safety and Justice Challenge and the Polk Bros. Foundation.