Between 1972-1991, former Chicago Police Commander Jon Burge and the predominantly white detectives under his command tortured hundreds of Black and Brown people.
The torture was used to extract confessions, convict people, and in the case of 11 people, send them to Illinois's notorious death row. Survivors of this torture spent decades in prison before they were released, some exonerated on the basis of their innocence.
For three decades, a grassroots movement comprised of survivors, their family members, attorneys, community activists, educators, and artists fought for justice for torture survivors. In 2013, Chicago Torture Justice Memorials (CTJM) launched a campaign to secure reparations for the Burge torture survivors, their family members and communities. Joined by Project NIA, We Charge Genocide, and Amnesty International USA, the reparations campaign used art, pop-up memorials, rallies, letter writing, Twitter power hours, light installations, and street demonstrations to successfully demand the City of Chicago pass reparations legislation. On May 6, 2015, Chicago's City Council unanimously passed reparations legislation, becoming the first municipality in the US to provide redress for racially motivated state violence.
The survivors of this torture have spent decades in prison. As of 2021, 55 individuals tortured by Burge or his disciples were exonerated or acquitted of the crimes they were forced to confess to. Other survivors served their sentences but continue to suffer from the effects of torture and the stigma of their wrongful convictions. While some survivors have been released and some were exonerated on the basis of their innocence, many are still in prison as a result of convictions based in whole or in part upon their coerced confessions and are waiting for their cases to be reviewed.
This map is an itinerary of sites across the city that tells a story of persistent mothers who fought for their children, of survivors who live daily with the traumas of torture, of activists who joined with survivors to demand justice, and more. The itinerary starts on the far South Side where the torture started, ending at the lakefront, a site that brings peace and release for many survivors. CTJM continues to pressure the city to fulfill its commitments to reparations by building a memorial dedicated to survivors and the ongoing struggle for justice.
Click on the sites on the map below to hear their stories and learn about the decades of work to end police torture.
Washington Park Field House, 5531 S. Martin Luther King Dr.
Washington Park Field House, 5531 S. Martin Luther King Dr., is an important site that is symbolic of the resistance to torture and the struggle for justice in the torture cases. In 2006, Mayor Richard M. Daley submitted a bid to have the city of Chicago host the Summer Olympic Games in 2016. Daley, previously the Cook County State's Attorney in the in 1980s, was informed that Burge and his men were engaging in acts of torture and he failed to investigate or prosecute Burge and the other officers for their crimes of torture. Instead, he and the prosecutors' office denied any acts of torture occured, facilitating the admission of people's tortured confessions against them. In 2006, it was well known that Burge and his men engaged in a pattern and practice of torture, but Daley had not apologized for the torture and there was no widespread redress for the torture survivors, their families, or members of the communities of color that were impacted. Black People Against Police Torture (BPAPT) developed a campaign to oppose Daley's bid for the Summer Olympics in 2016 because of the lack of redress for racially motivated torture that occurred. As part of that campaign, BPAPT convened in Washington Park to meet and speak with the Olympic Committee who had planned to visit the park to assess its suitability as an Olympic site. When the bus arrived, Daley refused to allow the Olympic Committee to get off the bus. The City of Chicago was not awarded the honor of hosting the Olympic bid.
While you are here, look for a mural of Dr. Margaret Burroughs on the Washington Park Fieldhouse. Dr. Burroughs taught art and poetry at Stateville for more than 20 years and certainly had survivors of police torture as her students. This mural was designed in honor of Dr. Burroughs by Darrell Fair and Charles McLaurin as part of an art class at Stateville Prison. Darrell Fair is a torture survivor and, as of December 2021, is still in court fighting his torture case.
Jane Addams Hull House Museum, 800 S Halsted St.
Jane Addams Hull House Museum, 800 S Halsted St., is a dynamic memorial to international peace activist, feminist, and social reformer Jane Addams — the first American woman to receive the Nobel Peace Prize — and her colleagues, whose work changed the lives of their immigrant neighbors as well as national and international public policy in the late 19th and early 20th centuries. The museum plays a special role in movements for social justice in Chicago, serving as a large space to hold political events.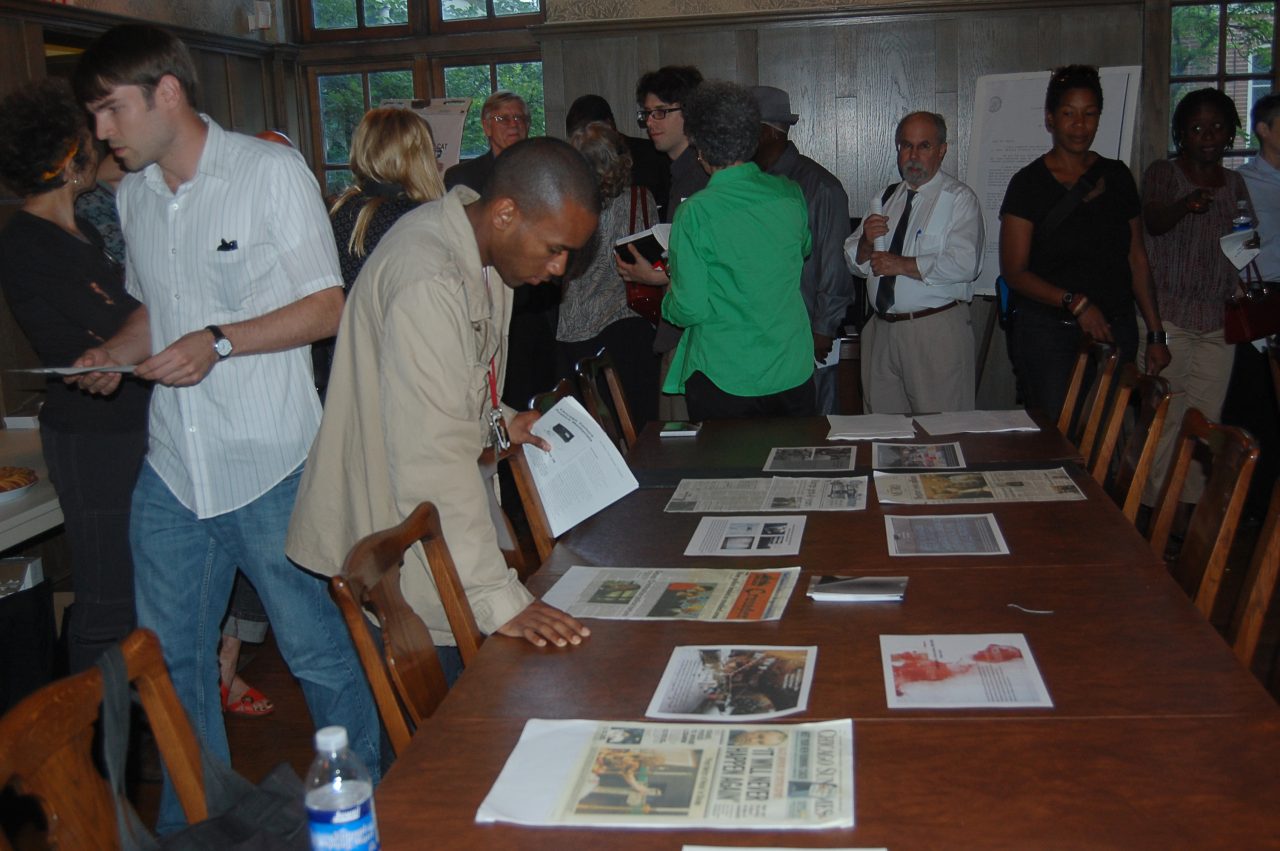 On June 28, 2011, Chicago Torture Justice Memorials (CTJM) held its first public event launching an open call for speculative memorials at Jane Addams Hull House Museum. CTJM filed an ordinance in Chicago's City Council seeking reparations for the Burge Chicago Police torture survivors in September of 2013.
On October 22, 2014, at Hull House Museum, We Charge Genocide (WCG), a multi-racial and intergenerational organization, publicly released their shadow report to the UN Committee Against Torture condemning the City of Chicago and Chicago Police Department for systemic racist violence, including shootings, the use of tasers, sexual abuse, and stop and frisk practices.
In November 2014, WCG sent a delegation of young people of color to the UN in Geneva, Switzerland to stage a historic protest against police violence in the US.
In December of 2014, CTJM coalesced with WCG, Project NIA, and Amnesty International USA to wage the successful campaign for the May 2015 passage of the reparations legislation for Burge torture survivors.
Fraternal Order of Police (FOP), Lodge #7, 1412 W. Washington Ave.
This is the home of the police union for the rank-and-file officers of the CPD. The FOP consistently and persistently defended Burge and his men accused of acts of torture. Over the years, the FOP raised money to support Burge and other officers accused of torture and paid for Burge's legal defense at both his Chicago Police Board and his federal criminal case. In March of 1993, the head of Chicago's FOP also attempted to enter a float in Chicago's St. Patrick's Day Parade to honor Burge and officers O'Hara and Yucaitis under his command as well as two Chicago police officers disciplined for violence against Black people. After public uproar, the FOP scrapped the float.
Everett M. Dirksen US Courthouse, 219 S. Dearborn St.
Everett M. Dirksen US Courthouse, 219 S. Dearborn St., is the federal courthouse in Chicago where federal criminal and civil cases are adjudicated. Several Chicago police torture survivors have successfully brought federal civil rights lawsuits against Burge and his men accusing them of torturing and wrongfully convicting them.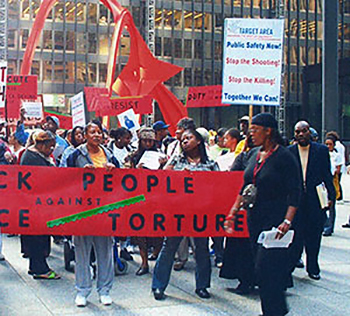 This courthouse was also the place where Burge was tried and convicted of perjury and obstruction of justice in a police torture survivors' federal civil rights case when he lied and denied he and others engaged in acts of torture at Area 2 Police Headquarters. Throughout Burge's prosecution and sentencing, survivors, family members, organizers, and the media packed the courtroom, and the courthouse square was the site of several press conferences and demonstrations.
City Hall, 121 N LaSalle St.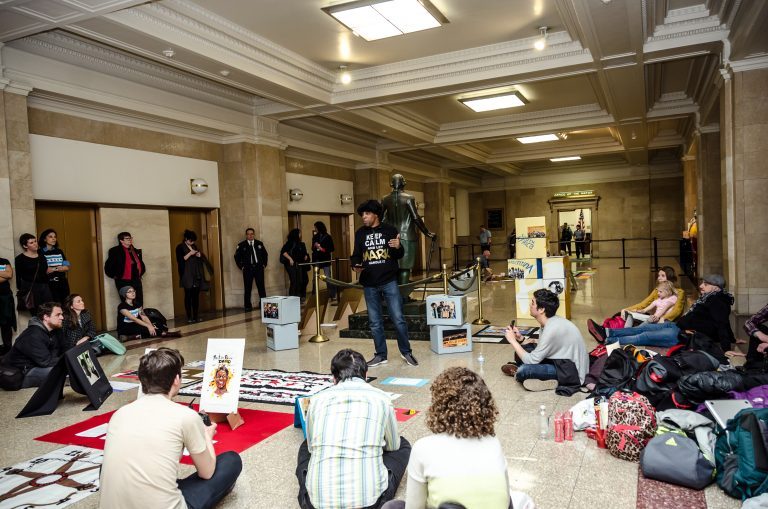 City Hall, 121 N LaSalle St., is the home of the Mayor and Aldermanic officers. It also houses the City Council chambers where Chicago's City Council meets and passes legislation, including the City Council's budget that funds the Chicago Police Department. The Mayor and the City Council are ultimately responsible for the operation of the CPD, and for decades failed to investigate and stop the pattern and practice of torture, hold the torturers responsible for torture, and recognize and halt other racially motivated violence endemic to the CPD. City Hall has also been a site of resistance where organizers have persistently staged press conferences, rallies, and protests to decry and demand an end to police violence. Over the course of three decades, organizers seeking justice for the Burge torture survivors have protested at City Hall beginning in the early '90s when they disrupted a City Council meeting as part of their campaign to terminate Burge from the CPD.
Over 20 years later, the reparations campaign — which included CTJM, Project NIA, We Charge Genocide, and Amnesty International USA — organized a Holiday Action to Pass the Reparations Ordinance that began with a march from Chicago Police Headquarters at 35th and Michigan to City Hall, and culminated in the delivery of a petition with over 40,000 signatures in support of the Ordinance and the construction of an ad hoc memorial for torture survivors in front of the mayor's office. On January 15, 2015, on the anniversary of Dr. Martin Luther King, Jr.'s birthday, the reparations campaign organized a sing-in outside Chicago City Council's Finance Committee meeting. This prompted journalists to ask Mayor Emanuel about the Reparations Ordinance, and he went on the record as saying that he believed some form of redress was necessary. Ultimately, on May 6, 2015, Chicago's City Council unanimously voted to pass the reparations legislation for the Burge torture survivors, becoming the first municipality in the history of the US to provide reparations for racially motivated law enforcement violence. 11 Chicago Police torture survivors and two family members attended Chicago's City Council meeting and received a standing ovation from the Council upon passage of the legislation.
Chicago Temple, 77 W. Washington St.
Chicago Temple, 77 W. Washington St., is an important space in the heart of Chicago's downtown loop across from City Hall that has often served as space where justice-minded groups and individuals have met and staged rallies for social and political justice.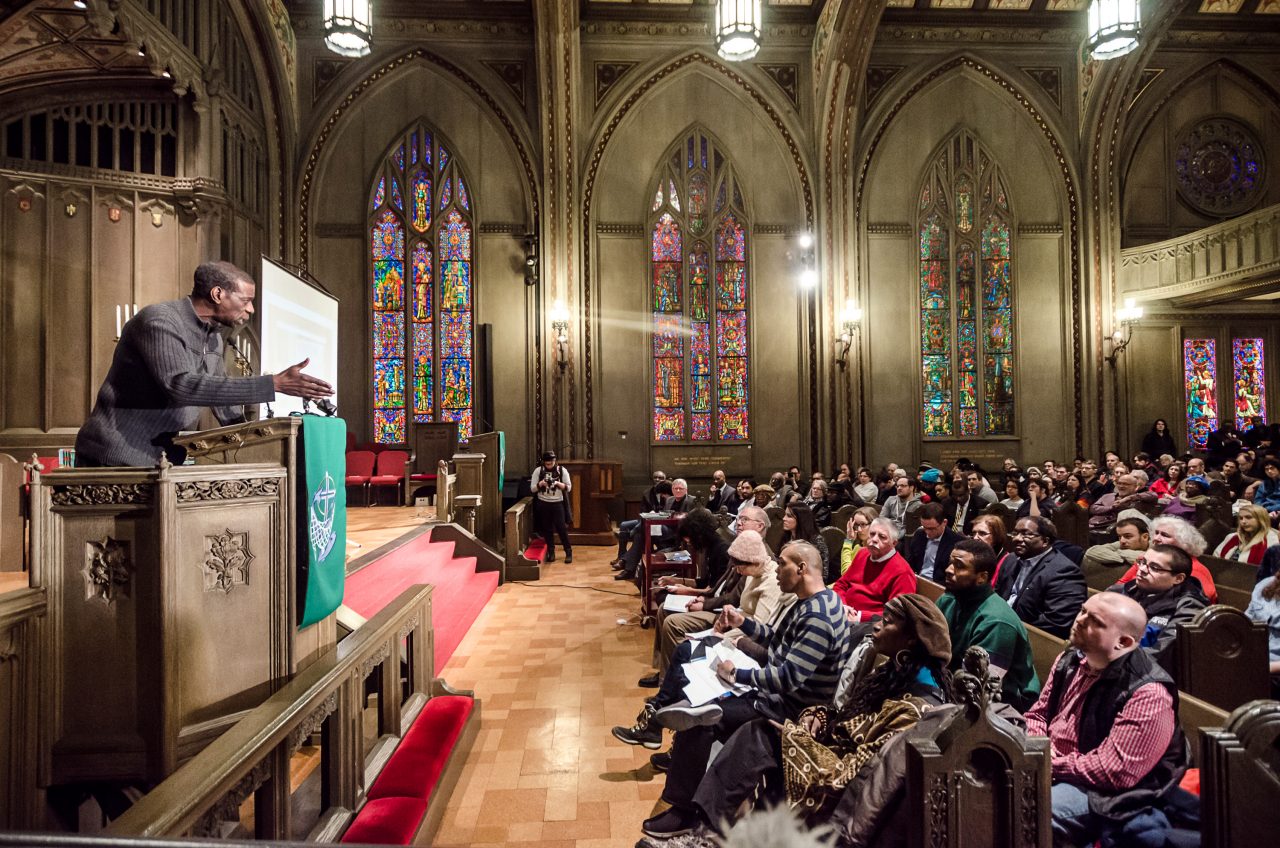 On February 14, 2015, over 250 people attended the Rally for Reparations: A People's Hearing, organized by Chicago Torture Justice Memorials (CTJM), Project NIA, We Charge Genocide, and Amnesty International USA. Speakers urged the crowd to support the Reparations Ordinance that had lingered in the city's finance committee for years. Torture survivors Darrell Cannon, Mark Clements, and Anthony Holmes, elected officials and candidates, and coalition members and other allies all spoke of the need to pass the Reparations Ordinance. The organizers passed out a "Who Is Right on Reparations?" voter guide to bring to the mayoral polls on election day. The next week, the city's corporation council (lawyer) reached out to CTJM to begin negotiations on behalf of Mayor Emanuel's administration on the ordinance.
Credits
Interviewers: Ivan Arenas, Daris Jasper, Patricia Nguyen and Sarah Ross
Transcriptions: Monica Stokes and Nicolette Joe
Video filming, editing and drawings: Sarah Ross
Post Production and Sound: Brain Ashby
Site Descriptions and Texts: Joey Mogul
Editing: Ivan Arenas
Data and Fact Check: Joey Mogul and Mark Clements
Chicago Torture Justice Memorials
chicagotorture.org
Through a multimedia exploration of the history of police torture in Chicago, artist and activist collective Chicago Torture Justice Memorials (CTJM) identifies 15 sites of police torture across the city of Chicago and connects them with oral testimony from survivors. Interweaving video recordings, an interactive map, and written accounts, CTJM illuminates a landscape of police violence in Chicago over more than 20 years. The collective invites you to visit each site on the map to begin the work of grappling with this history and the ways it continues to impact conversations around justice in Chicago today.
View Bio
Share this Installation